Events Info  Provided by
Intellect rou will learn consumption tax!
Event Date/Time:
August 29, 2019 (Thu) - August 29, 2019 (Thu)
Event Venue:
Shimizu, Shizuoka-shi citizen activity center
〒424-0943 2-1-1, Minatocho, Shimizu-ku, Shizuoka-shi, Shizuoka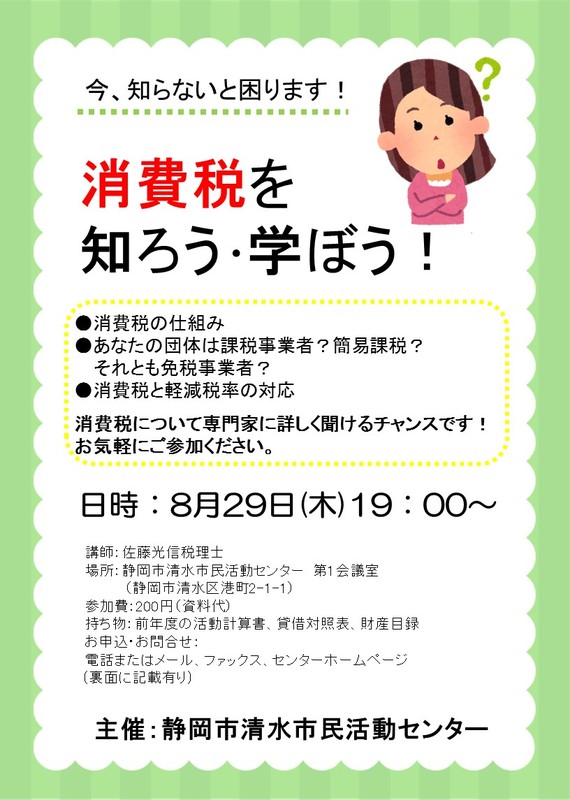 ★Structure of consumption tax ★Is group of you taxation company? Is it simple taxation? Or is it tax exemption company? ★Consumption tax and raise of the correspondence consumption tax of reduction tax rate approach. It is chance to listen to to licensed tax accountant in detail so that relevant NPO corporation copes. Please participate casually.
For more details, it is by @S
Event Name

Intellect rou will learn consumption tax!

Event Venue

Shimizu, Shizuoka-shi citizen activity center

〒 424-0943 2-1-1, Minatocho, Shimizu-ku, Shizuoka-shi, Shizuoka

Event Date/Time

August 29, 2019 (Thu) - August 29, 2019 (Thu)

Event Day Details

Thursday, August 29, 2019
19:00 ...

Admission

200 yen (document charges)

Capacity

-

Event Organizer

-

Contact Number

-

Inquiry Email Address

-

Comments

-

Directions
NAVI Shizuoka waiting for event of Shizuoka
Let's look for event in Shizuoka Central Town NAVI