Events Info  Provided by
The mihoshirube plan exhibition "painter Eisaku Wada second who loved sanho"
Event Date/Time:
December 19, 2020 (Sat) - February 14, 2021 (Sun)
Event Venue:
Shizuoka-city Miho no Matsubara culture creation center "mihoshirube" the first floor display is in a room
〒424-0901 1338-45, Miho, Shimizu-ku, Shizuoka-shi, Shizuoka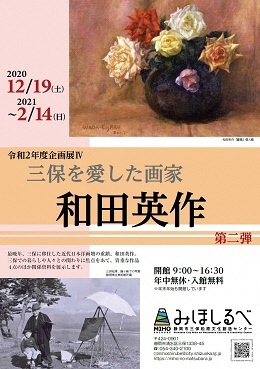 Eisaku Wada (1874-1959) who was man of influence of Japanese modern foreign film was Mount Fuji and painter charmed by robe-of-feathers-type myth. We often visited Shimizu, sanho for sketch and deepened friendship with people of sanho and set up house and atelier in sanho in the most later years and continued describing Fuji and still-life pictures such as roses seen from sanho. We display associated information other than four points of works and, following the first step which we held in last year, introduce this time about relation and life with Eisaku Wada and people of sanho.
For more details, it is by @S
Event Name

The mihoshirube plan exhibition "painter Eisaku Wada second who loved sanho"

Event Venue

Shizuoka-city Miho no Matsubara culture creation center "mihoshirube" the first floor display is in a room

〒 424-0901 1338-45, Miho, Shimizu-ku, Shizuoka-shi, Shizuoka

Event Date/Time

December 19, 2020 (Sat) - February 14, 2021 (Sun)

Event Day Details

From Saturday, December 19, 2020 to Sunday, February 14, 2021
9:00-16:30

Admission

No charge for admission

Capacity

-

Event Organizer

-

Contact Number

-

Inquiry Email Address

-

Comments

-

Directions
NAVI Shizuoka waiting for event of Shizuoka
Let's look for event in Shizuoka Central Town NAVI