Events Info  Provided by
Shizuoka-city cityscape commendation business "Shizuoka-city we wait corner collection 2020-21"
Event Date/Time:
December 21, 2020 (Mon) - February 26, 2021 (Fri)
Event Venue:
Shizuoka-city government office ※There is not venue about offer
〒420-8602 5-1, Otemachi, Aoi-ku, Shizuoka-shi, Shizuoka Shizuoka-city the fifth floor of the government office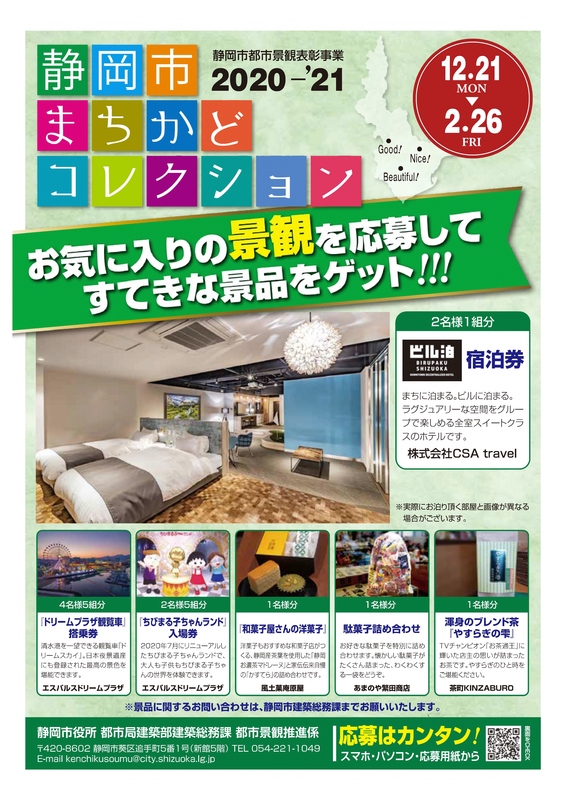 "We wait for Shizuoka-city and it is attractive we wait and, in corner collection 2020 - '21, aim at promotion of the scenery formation that is good in and "we find" and "we gather" thing "spreading" at corner with everybody. Application object contributes to the formation of good scenery in the city including the scene that building and signboard, town ordinary outside space (open space or terrace), they and person weave. You are stirred up, and please apply.
For more details, it is by @S
Event Name

Shizuoka-city cityscape commendation business "Shizuoka-city we wait corner collection 2020-21"

Event Venue

Shizuoka-city government office ※

〒 420-8602 5-1, Otemachi, Aoi-ku, Shizuoka-shi, Shizuoka Shizuoka-city government office the fifth floor

where there is not venue about offer

Event Date/Time

December 21, 2020 (Mon) - February 26, 2021 (Fri)

Event Day Details

[application period] From Monday, December 21, 2020 to Friday, February 26, 2021


Admission

-

Capacity

-

Event Organizer

-

Contact Number

-

Inquiry Email Address

-

Comments

-

Directions
NAVI Shizuoka waiting for event of Shizuoka
Let's look for event in Shizuoka Central Town NAVI