Events Info  Provided by
[cancellation, postponement] Kyoto study lecture "Kyoto sight-seeing - smart Kyoto sightseeing ..." "hallowed ground of Kyoto and history"
Event Date/Time:
February 20, 2021 (Sat) - February 20, 2021 (Sat)
Event Venue:
The second floor of sarunatohoru
〒420-0857 11-14, Miyukicho, Aoi-ku, Shizuoka-shi, Shizuoka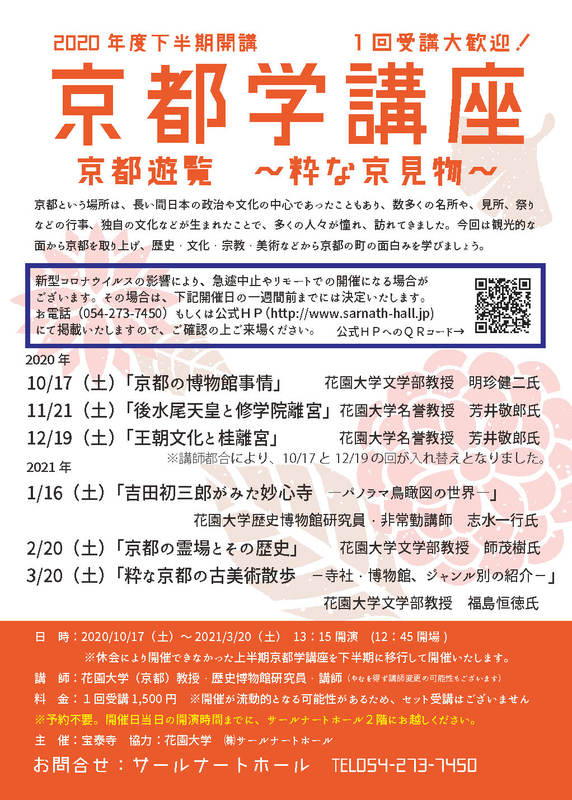 ※Under the influence of new coronavirus, 2/20 Kyoto study lecture became adjournment. It becomes postponement after April. Place called Kyoto had been the center of Japanese politics and culture for a long time, and as many famous places and highlight, events such as festivals, original culture were born, many people visited admiration. We take up Kyoto from sightseeing-like aspect this time, and let's learn fun of the town of Kyoto from history, culture, religion, art.
For more details, it is by @S
Event Name

[cancellation, postponement] Kyoto study lecture "Kyoto sight-seeing - smart Kyoto sightseeing ..." "hallowed ground of Kyoto and history"

Event Venue

The second floor of sarunatohoru

〒 420-0857 11-14, Miyukicho, Aoi-ku, Shizuoka-shi, Shizuoka

Event Date/Time

February 20, 2021 (Sat) - February 20, 2021 (Sat)

Event Day Details

Saturday, February 20, 2021
To around 13:15-15:00 (12:45 - acceptance start)

Admission

Only attendance 1,500 yen is reservation-free (there is not set price in this term) once. On the day come to venue directly.

Capacity

-

Event Organizer

-

Contact Number

-

Inquiry Email Address

-

Comments

-

Directions
NAVI Shizuoka waiting for event of Shizuoka
Let's look for event in Shizuoka Central Town NAVI